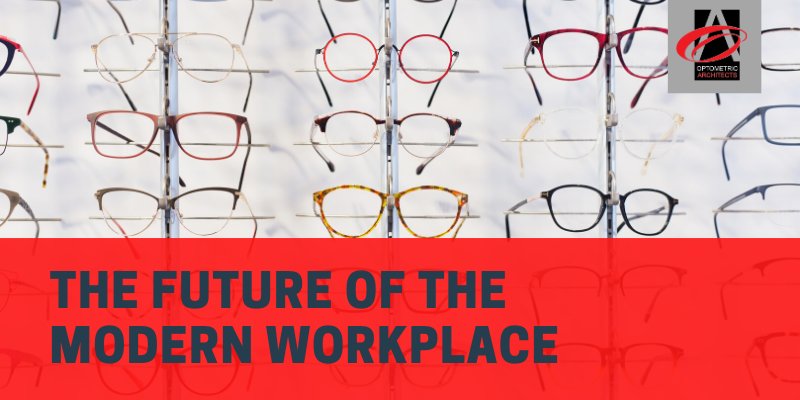 The year 2020 will forever be remembered as the year that COVID-19 took the world by storm. Businesses, schools and entire economies shut down as the world scrambled to figure out how to move on in a world where a pandemic had the reigns. Now that we're a year into our new normal, it's time to figure out what the modern workplace looks like going forward.
With a focus on safety, Optometric Architects have devised a way to keep you, your team and your clients protected while in your office. By using an outside perspective, we can determine which opportunities best fit your business. Whether you need tips for updating your current office or you're looking for ways to improve your expansion or new space, we have the resources you need.
COVID-19 Updates for Current Offices
Creating standards of safety for your office is on the top of everyone's minds. Optometric Architects have developed three ways to make sure your clinic is doing everything it can to go above and beyond the normal methods of care.
Air Filtration Systems: Per the CDC, the main route of transmission for the COVID-19 virus is via respiratory droplets produced when someone who is infected coughs, sneezes or talks. By increasing air ventilation and filtration, you can help reduce or even eliminate airborne particles that can spread the virus. This is especially important in close spaces like exam rooms.
Remove Soft Surfaces: Items such as carpet, fabric chairs, curtains and lab coats can be hard to disinfect on a daily basis. By replacing these items in your office with vinyl, antimicrobial fabrics and cleanable surfaces, you are able to efficiently and effectively sanitize your space.
Go Paper-Free: Every surface has the chance of being a vector for transmission. By eliminating in-office paperwork such as new patient forms or aftercare summaries, you decrease any cross-contamination between staff and patients. The easiest way to do this is by going digital! Many EMR systems include scanning capabilities making copying insurance and ID information an easier process.
COVID-19 Plans for Expansions and New Offices
Standards of care are going to be something that all clients look for when it comes to selecting their new optometrist. By creating your office with updated post-pandemic standards, you will not only keep your staff safe but also give your clients the best possible care. Our top tips for your new space will not only prioritize safety but will also help you foster growth in your company.
Create Your Team: You are only as good as your team which is why selecting your realtor, developer, architect and contractors is extremely important. Each person is invaluable to the overall process so choosing the right team is going to help your overall outcome.
Design Your Optimal Floorplan: Keeping current and past protocols in mind, the flow through the clinic should promote social distancing and decrease the amount of congestion possible in a given area.
Construction Constraints: With a shortage of many supplies and high demand for others, you should be prepared for unforeseen delays. Beyond typical construction delays, there could also be delays with banks, contractors and most importantly, permits for your new office.
Think Digitally: The pandemic taught us one thing, not everyone is ready to take their business online. Digital marketing, as well as online patient care, are huge aspects of business that you need to account for while designing your space. Your space reflects who you are and it's what your clients see - Keep this in mind every step of the way.
One year changed the world as we know it. Since the pandemic started, we have all adapted to our new normal and made changes to ensure the safety of ourselves and others. The team at Optometric Architects has worked closely with doctors and their teams to find the best solutions for every office.
Whether you're looking to update your current practice or you plan on adding on additional office space, patient safety should play a role in your office design. If you're ready to ensure that your office is safe for your team and your patients, our experts can help!