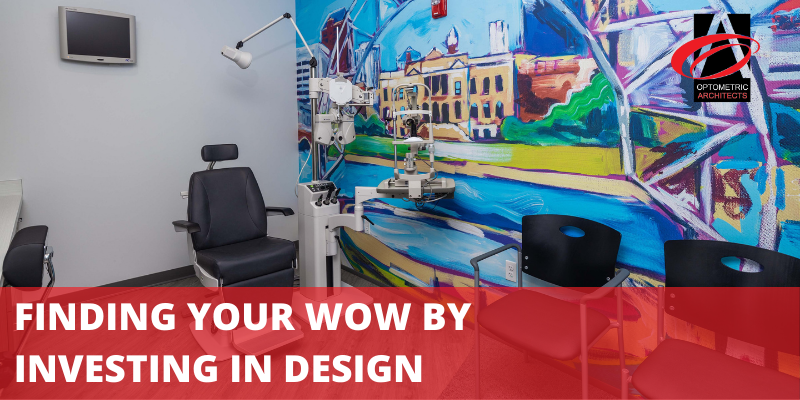 There is no better investment than the one you make in yourself and your business. Investing in design, planning and quality drawings can actually pay for itself. Efficiencies are where your ROI becomes a reality, and your practice operates at its best. This leaves one question though. How do you decide which designs are best for your optometric office? Today, Optometric Architects is here to help you understand the three elements needed to find your wow factor.
Not sure what your wow is? Well, it's you of course! You have built your office from the ground up and your team, as well as your clients, benefit from the successes you create. It's time to focus on attracting the clients you want and increasing your overall service and sales goals. With over 60 years of combined architectural experience, we have identified three elements you need to discover to secure your wow.
Many people immediately think of the logo or the colors that are on their door when they think of their brand. But your brand is so much more than a business card or front door. The entire experience of utilizing your business, from beginning to end, is what your client will associate with your brand. From the minute a potential customer walks in the door, they will see, hear and feel the room around them. It is up to you to curate that space to reflect your priorities and values. Your brand is what is going to help the community immediately identify your business and what you have to offer.
Who is your ideal client?
Your brand was all about you and who you are, but this next element is all about your clients. Understanding your clients' wants, needs and habits is going to work to your benefit. For instance, if you live in an area where outdoor sports like hiking, biking and running are common, you'll want to cater to an athletic crowd with both your space and available products. Perhaps your office is in an area of town where the clientele prefers upscale offerings and designer frames. By catering to the needs of the people you serve, you can help secure your wow.
Choreograph the experience
The final element is a crucial step in the overall process – it's choreographing the experience your customer has from the moment they set foot into your space until they leave. It is up to you to create a narrative that promotes a positive flow for your clients, your staff and your business. Reconsider how your office can work for you to ultimately find your wow. Instead of a waiting room, why not create an engagement room? Design a space where your clients and vendors will feel comfortable interacting with your team and your products. Allow each step of the patient intake, exam and discharge process to be seamless and comfortable. Break down the experience of a client and ensure that each step smoothly flows into the next.
Investing in your business is key to its success. By adjusting your business to work for both you, your team and your clients, you are able to expand your offerings and cater to those you serve. In fact, let our years of experience work for you by identifying and capitalizing on your wow! Get started today with the team at Optometric Architects.