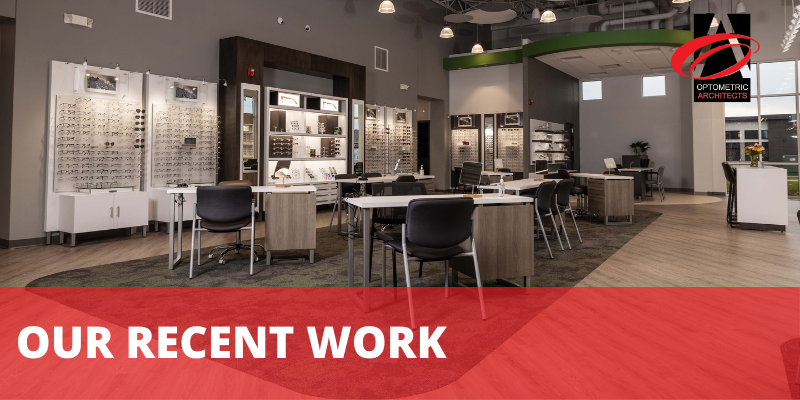 If you're here, you're probably considering creating or updating a workspace for your optometry office. Well, you've come to the right place. When you work with Optometric Architects, you are reaping the benefit of more than 60 years of combined experience. We understand the unique needs of those in the eye care industry because it's what we do most. In fact, we are here today to highlight some of our most recent designs, featuring some of the boldest and most efficient updates we've done so far.
As always, you can view an array of our previous work on our gallery page. With completed projects in over 40 states and 5 Canadian provinces, there are many elements of design to discover. From the most basic redesigns to starting from scratch, we can help you encourage optimal flow through your business. Reach out to a member of our team today if you have questions about our most recently completed work or other finished enterprises.
Full Circle Vision Care – Midland, Michigan
Undoubtedly one of the more fun projects we have worked on, Full Circle Vision Care was an exciting challenge. Going into this design, we knew we wanted to feature elements that paid tribute to the city of Midland. Utilizing exposed brick walls throughout the space, we were able to capture that hometown feel. Another element of design that pays homage to the city was the flooring. Playing with specific carpet patterns, we were able to mimic the exterior of the Midland Center for the Arts building and honor local architect, Aiden B. Dow's famous works.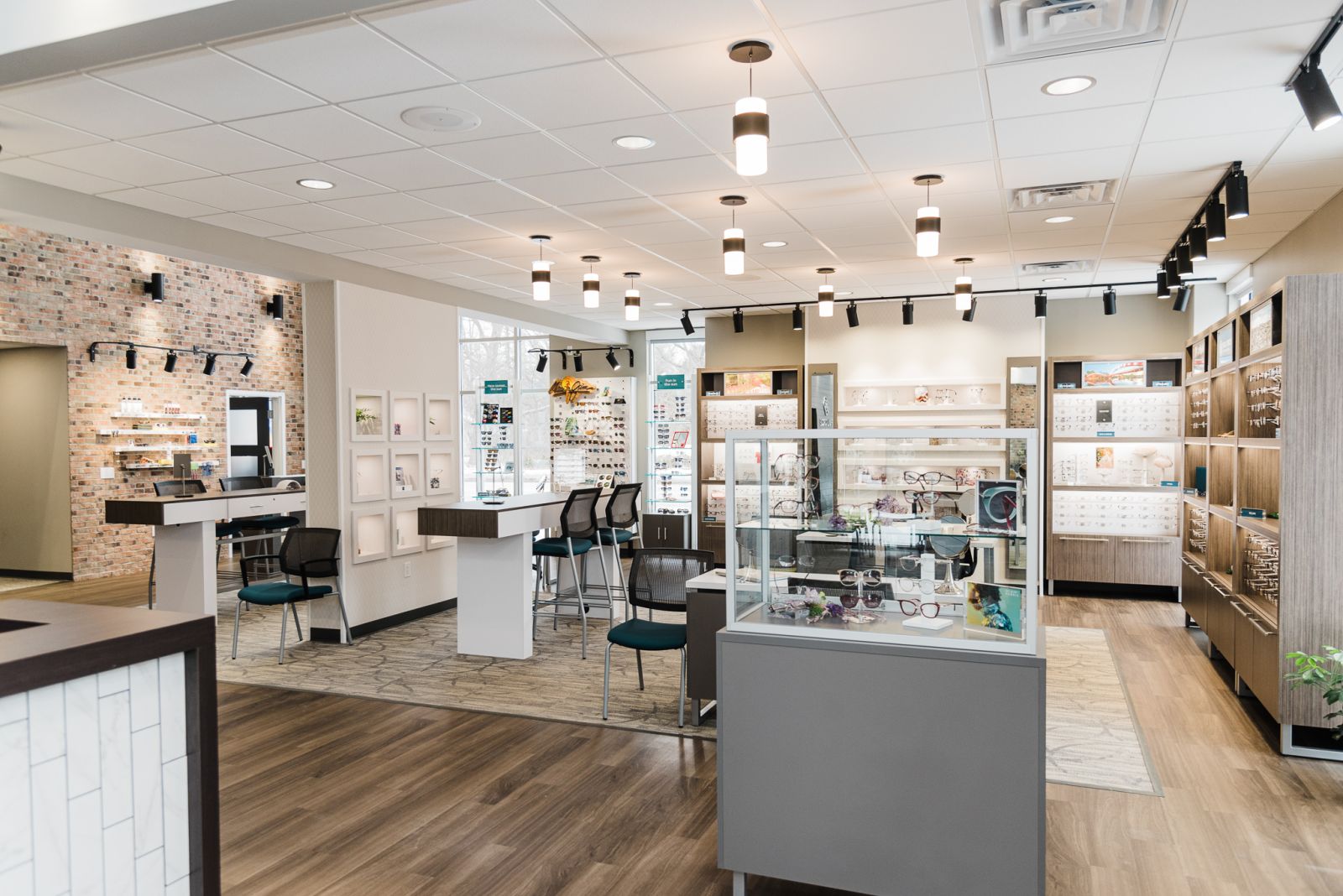 Elite Eye Care – Waukee, Iowa
Right in the middle of an expanding suburb, Elite Eye Care was a huge project – Over 10,000 square feet to be exact! With such a large space, we wanted to make sure that the design still made an impact. In support of the local economy, we incorporated custom artwork throughout each exam room from an artist in Des Moines. Not only does this provide a personal touch but it helps create warmth in the large and open space. This in combination with the open and airy feel of the entryway makes you feel welcome and invited into the office. This location even features a sports vision therapy center to cater to the ever-growing population in that area.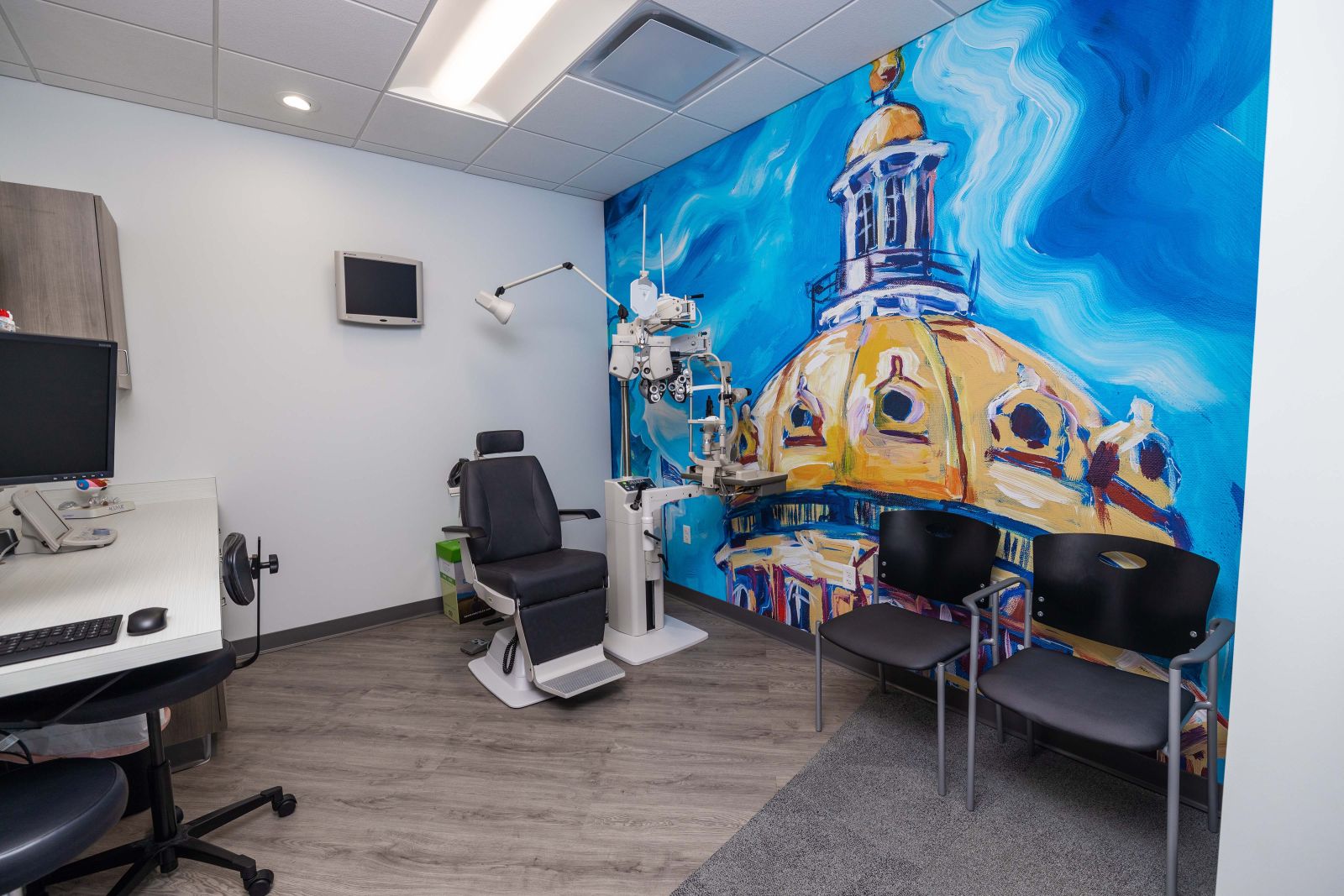 Haywood Family Eye Care – Waynesville, North Carolina
Serving their community since 1955, Haywood Family Eye Care allowed us to help with their new 5,000 square foot office. Nestled in the mountains of North Carolina, we wanted to play up the wide-open spaces outdoors on the inside of this new facility. With such a spacious interior, creating clear sightlines and maximizing the open floor plan was a priority. Utilizing an industrial glam feel, we are proud to have worked with the great people at Haywood Family Eye Care to create their ideal workspace.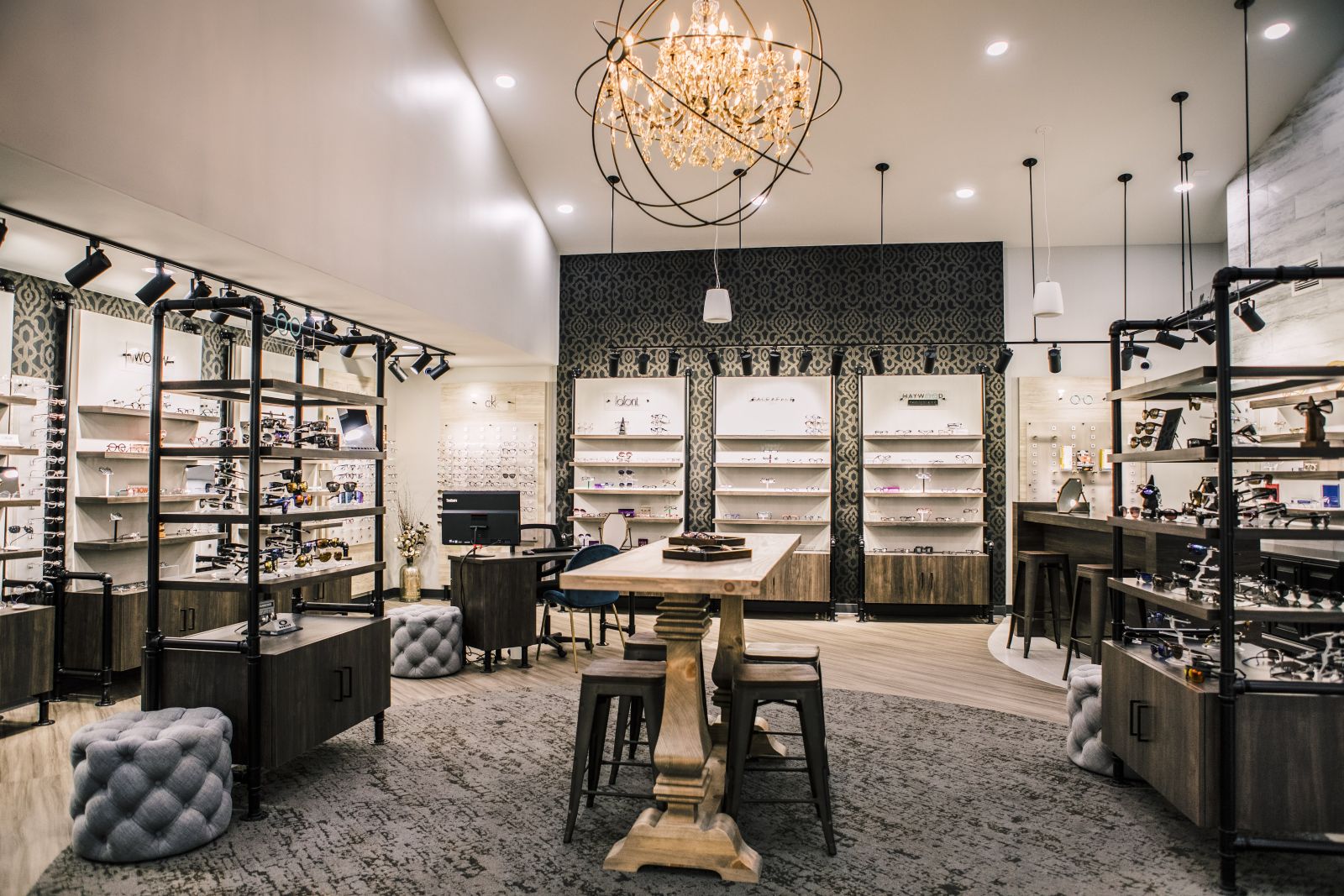 Working to create functional and efficient optometry offices is what we do best. Whether you need help with a redesign or you're starting from the ground up, the team at Optometric Architects is ready to help. Review our gallery and then give us a call or fill out our online form to get started planning the workspace you need to succeed.